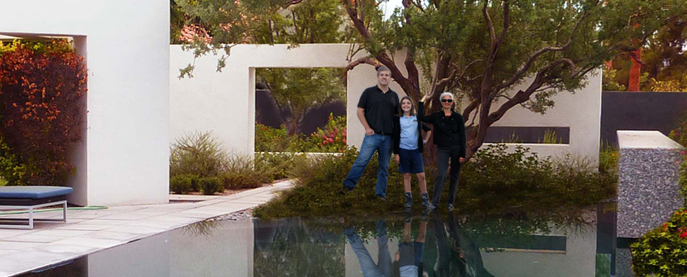 Quotes About Phoenix Landscape Designer, Kirk Bianchi:
"Very Progressive, Fresh, and innovative…Bianchi's Detailing Approaches that of a fine jeweler."
                                                                              Jeffrey Hennig, Environmental Artists
"As a watershape contractor, over the last 25 years I have been in the position of working with many "Designers" of aquatic structures and surrounding hardscape/landscape elements. I can say unequivocally that in my experience, Kirk Bianchi has no equal. His unique and deep understanding of all aspects of design is apparent to anyone whom has seen his finished works. And as though his design prowess where not enough, the element that truly sets Kirk apart from any other, is his depth of construction knowledge. This is a component that is virtually absent or ignored in nearly all "Designers" and even in all but the most dedicated contractors. When I receive a plan from Bianchi Design, I know I have a plan that is not only beautiful, but is viable to the highest level of structural standards and hydraulic/fluid dynamics. Simply put, I cannot overstate the virtues of Bianchi Design. If you have found Bianchi Design, your search for the very best is complete. "
                                                                              Mike Rowland, Azure Gallery
"Kirk Bianchi is an outdoor architectural designer who brings together the three disciplines – landscape, pool and exterior architecture- for the ultimate fusion of total outdoor lifestyle design."
                                                                              Candy Lesher, Editor-in-chief
                                                                              Food & Life Magazine
                                                                              Executive Producer Food & Life TV
"Bianchi's Artistry is the standard. A must-have for every connoisseur of fine living."
                                                                              Nancy Erdmann
                                                                              Executive Editor, Phoenix Home & Garden, Arizona
"Bianchi is a truly gifted pool and Phoenix landscape designer with a keen eye for integrating exterior spaces with architectural style and natural settings."
                                                                              Eric Herman
                                                                              Editor, WaterShapes Magazine
"Design Excellence and Thoughtful Orchestration at every budget level makes even a small pool and landscape project look and feel like a million."
                                                                              Eric Spry, Architect, Phoenix Arizona
"I have worked with Kirk on a number of high-end residential projects, and he is a very fresh addition to the industry. The first thing I noticed about him was that he got what I was doing, and reflected that architecturally by repeating lines from the inside of a home into his designs on the outside."
                                                                              Teri Mulmed, Do Daz Inc., Interior Design
"Kirk has a true talent for creating beautiful and unique outdoor environments. He is the kind of guy who never seems to be satisfied. He is always thinking of and working toward coming up with more aesthetically pleasing and rewarding spaces for his clients. It's as if he is always saying to himself, 'I can make it better. I know I can.'"
                                                                              Bill King, Wm. King Development Co. Inc.
"We were quick to notice Bianchi's diligence and painstaking attention to detail. Kirk came up with a great concept for a trouble spot in our yard. He has a keen eye and carefully analyzes everything."
                                                                              Steve Gilbard, Desert Highlands, Scottsdale AZ
"For us, it was all about finding someone who could create something cutting edge and out of the ordinary. We knew right away that Kirk was in sync with our ideas. He designed a pool with a knife edge, a Mexican pebble-rock fountain, and a spa that was leveled so perfectly, the water looks like a sheet of glass. Between his creativity and Ted Miller's ability to take Kirk's complicated designs and turn them into reality, they're the real deal."
                                                                              Brad and Michele DeGeorge, Sun Lakes, Chandler AZ
Begin Transforming your outdoors into the haven you have dreamed of!
Contact Kirk now for your complimentary consultation.