Here's a frequent refrain, "I need a vacation. I've been stuck indoors at the office all week. I need an outdoor therapeutic place to escape to for relaxation and a sense of freedom rather than being cooped up at home. I need exercise and time with family, something that is more convenient than eating out all the time or going on frequent trips."
Instead of planning a vacation somewhere far from home, somewhere you have to pack for and plan for, you can create a resort environment of your own to enjoy constantly as part of your everyday environment. Imagine the impact this could have on your psychology and well-being.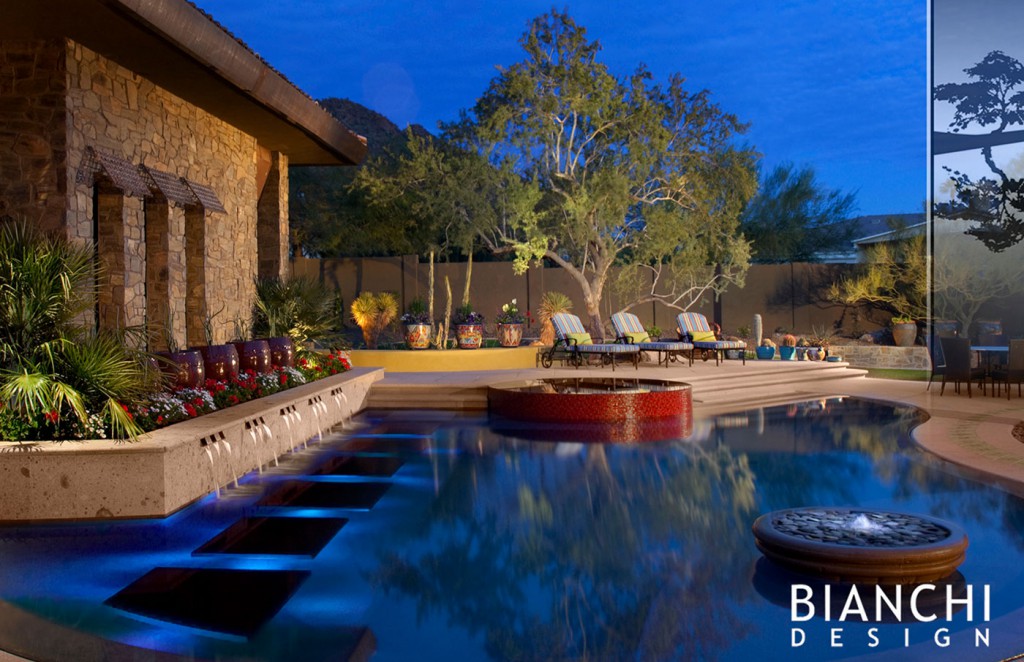 As people take a closer look at their assets, many are realizing they have enormous potential right at home to make their environment more relaxing and peaceful by using back yard landscape design.

Unfortunately, if they don't choose the method carefully, they could end up with frustrations and stress rather than trusting the building process. Construction can be invasive with people on site at your house and the demands on your time to touch base at milestone decision making opportunities. In addition, some contractors can be lackadaisical schedulers and poor communicators.
Trust us…As artists, we do what we do in our sleep, intuitively, as second nature. It may not always be easy for us to articulate, but you've seen and loved the results we have done for others. So allow us to do what we do… Second guessing what we do or moving stuff around after we have gotten everything proportioned just right is not improving your project! The ability to have confidence in your designer and builder is entirely dependent on who you chose to do the work.
A professional and experienced landscape and pool designer:
is passionate about his work and treats all projects with the same care and attention
always integrates homeowners' lifestyle and finances with esthetics and functionality in the process of back yard landscape design with the purpose of achieving a beautiful environment reflecting the client's personality
focuses on quality, value, elegance and enhancing the features of your outdoor space by providing and implementing award winning pool design ideas
uses ordinary elements, like pools, landscapes, fountains, fire elements and outdoor living spaces, and applies design principles to shape them into distinctive spaces that appeal to people emotionally
creates relaxing and attractive settings that improve the quality of life and interaction between people who are sharing the new environment
reveals opportunities the clients never considered when thinking about how to use and maximize their outdoor living space
helps clients sort priorities, manage and resolve conflicting ideals, by offering guidance and assistance in designing the outdoor area and swimming pool
is both a talented and creative designer, concerned with the harmony, wholeness and cohesion of the outdoor space with the rest of the property, and a skilled and experienced builder who knows exactly what the construction process involves.
If you're ready to get started on your own back yard resort, contact us today.