Published in Phoenix Home & Garden, September 2011
"Elegance and Comfort Meld in a Designer's Own Residence" (excerpt)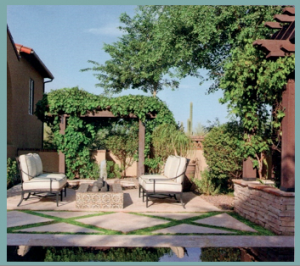 Rows of pavers intersected by grass lead to a wood trellis with grape-bearing vines and a tiled fire pit, with its displays of porcelain spheres. All designed by Kirk Bianchi, a Phoenix Home & Garden, Master of the Southwest.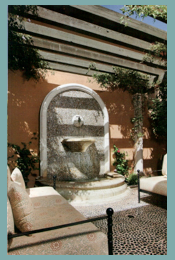 In addition, an overhead trellis and the sound of water trickling from a wall-mounted fountain was designed by Bianchi.  Bianchi worked in tandem with the owner and interior designer Ashlyn Pohl, integrating her favorite finishes. The font is set within a stone arch and against an onyx backdrop.  The rock-encrusted patio floor is made with stones that come on mesh backgrounds for easy installation.  Ashlyn's powder-coated aluminum sofas are fitted with cushions covered in weather-resistant fabric.
For the full article, pick up the issue today!